Water Tank Range
When you want to capture your own fresh water, you want the best storage available. In a rural area you are storing volumes of water for whole of house. In a Metro area your water supplies the laundry and flushes your toilets. And everyone needs water for gardening and washing their cars.
What we do is make tanks for every situation. Standard fittings are included to suit nearly all domestic applications. Common customisations include council prescribed stormwater detention and retention systems, and other variations are possible too - please speak with your expert local dealer. We also manufacture many industrial heavy duty systems and work with engineers for all sorts of projects.
Each tank on this page will hold water for all sorts of applications. The right tank for you will give you all the capacity you need, in the shape you want. Remember that you want the largest capacity for the space you have available - you can never have too much water.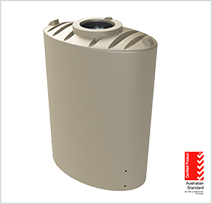 2000 SlimlineCapacity - 2000 Litres
Depth - 895 mmWidth - 1500 mmHeight - 2080 mm
2007 Squat SlimlineCapacity - 2007 Litres
Depth - 912 mmWidth - 2895 mmHeight - 1150 mm
2008 SlimlineCapacity - 2008 Litres
Depth - 550 mmWidth - 2400 mmHeight - 2150 mm
2020 SlimlineCapacity - 2020 Litres
Depth - 640 mmWidth - 2170 mmHeight - 2000 mm
2030 SlimlineCapacity - 2030 Litres
Depth - 600 mmWidth - 2300 mmHeight - 2010 mm
2060 Slim with Integrated Pump Capacity - 2060 Litres
Depth - 700 mmWidth - 2000 mmHeight - 2050 mm
2510 SlimlineCapacity - 2510 Litres
Depth - 800 mmWidth - 1900 mmHeight - 2150 mm
3000 SlimlineCapacity - 3000 Litres
Depth - 800 mmWidth - 2500 mmHeight - 2150 mm
3007 Squat SlimlineCapacity - 3007 Litres
Depth - 912 mmWidth - 2895 mmHeight - 1650 mm
3060 Slim with Integrated Pump Capacity - 3060 Litres
Depth - 700 mmWidth - 2900 mmHeight - 2040 mm
3100 SlimlineCapacity - 3100 Litres
Depth - 775 mmWidth - 2500 mmHeight - 2135 mm
4000 SlimlineCapacity - 4000 Litres
Depth - 900 mmWidth - 2750 mmHeight - 2150 mm
5000 SlimlineCapacity - 5000 Litres
Depth - 1020 mmWidth - 3100 mmHeight - 2175 mm