The Original Drainage Cell since 1986
The Atlantis Flo-Cell® drainage system is an Atlantis flagship product invented and developed by the founder of the company in 1986. The product was developed to facilitate adding roof top gardens and planter boxes to building construction without adding heavy aggregate as drainage that placed severe limitations on the structural design of the building. The product provided a structurally strong structure, highly effective drainage and lightweight properties that was so successful that the drainage cell became an landscaping industry standard.
Ordering a Bulk Amount? Call us for discounted price. Minimum Order 10m2.
The Atlantis Flo-Cell® Drainage Cell is available in the following sizes;
The Atlantis Flo-Cell® range is a versatile product suitable for many applications including the drainage of sports fields, civil works, retaining walls and landscaping applications. The Flo-Cell® is also ideally suited for WSUD (Water Sensitive Urban Design) applications and provides and ideal use for increasing the permeability of ground areas which reduces overland flow and facilitates groundwater recharge.
Benefits
Rapid Drainage
Efficiently drains excess water while retaining an optimum moisture level – ideal for promoting plant growth in planter box and roof garden applications
Lightweight
No cranes or lifting equipment required
Strong Structural Design
Structurally engineered to be used in drainage-critical applications such as planter boxes and roof gardens.
Versatile Design
The Flo-Cell® products can be installed horizontally or vertically and are easily configured to meet project specifications.
Quick Installation
Faster installation than traditional aggregate drainage systems.
High Infiltration
90% void ratio.
Biological Resistant
The product is indefinitely resistant to biological contaminants.
Atlantis Flo-Cell® Specifications
| Part ID | 80020 |
| --- | --- |
| Dimension (mm) | 20 x 406 x 620 |
| Capacity (mL) | 453 |
| Weight (g) | 550 |
| Load Limit | 90 t / m2 |
| Flow Rate (@ 1% grad) | 0.65 L/sec/m |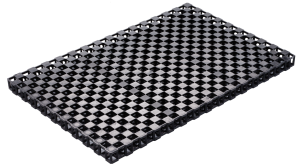 | Part ID | 80030 |
| --- | --- |
| Dimension (mm) | 30 x 406 x 607 |
| Capacity (mL) | 664 |
| Weight (g) | 650 |
| Load Limit | 105 t / m2 |
| Flow Rate (@ 1% grad) | 1.18 L/sec/m |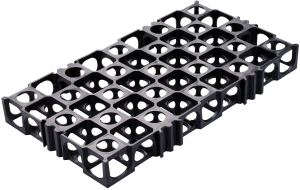 | Part ID | 80052 |
| --- | --- |
| Dimension (mm) | 52 x 260 x 480 |
| Capacity (mL) | 496 |
| Weight (g) | 750 |
| Load Limit | 155 t / m2 |
| Flow Rate (@ 1% grad) |  2.65 L/sec/m |
| Void Ratio | Volume Void: 90%            Surface Void: 70% |
| --- | --- |
| Materials | 85% recycled polypropylene, 15% proprietary material |
| Bio-Chem Resistance | Unaffected by mold, algae, chemicals & hydrocarbons |
| Service Temp | -10°C to 70°C |
| Material Lifespan | 100+ years (underground install) |

About Flo-Cell®Horizontal Drainage
---
Since the original release in 1986,  Flo-Cell® set a benchmark for sub surface drainage. Flo-Cell® is the most advanced geo-composite for sub surface drainage and offers high compressive strength, lightweight construction, ease of installation and low cost compared to traditional drainage methods. More efficient than traditional drainage methods like blue steel/blue metal, Flo-Cell® provides a permanent and easy to install scaffold for drainage media to rest.
Long Life Durability
Atlantis Drainage Cell has excellent long term durability and is resistant to all ground chemicals. Flo-Cell is manufactured from selected quality recycled materials and under stringent quality control ensuring a high quality product that will not collapse or distort if used correctly. Our goal at Atlantis is to remain environmentally friendly whilst also solving water issues in a more efficient way.
Efficient Water Management
The Flo-Cell® removes only excess water, keeping a perfect amount of moisture on perch. The unique design of the Flo-Cell also features water retention cups that provide optimal moisture conditions for growing media.
Protects Building Structures
The Flo-Cell®, used in conjunction with Atlantis Geo-textile, which functions as a protective membrane, a filtration layer and for providing ventilation to concrete slabs which alleviates heat induced stress and cracking.
Atlantis Vertical Drainage
---
The Atlantis Vertical Drainage system has a high compressive strength, protects waterproof membranes, is economical, lightweight, easily transportable, easy to install and is a permanent and is a highly efficient vertical drainage. The system is perfect for controlling water seepage, ideal for underground car parks, basements, retaining walls, seepage cutoff trenches and Hydrostatic Pressure Relief
Our Flo-Wall product is a durable wall drain which solves many existing problems in modern architecture.